As business starts to return to a degree of normalcy – we remind you of our 1st function of 2023, next Wednesday 25th January on growing your market into the Kingdom of Saudi Arabia.
There is unlimited potential, in particular for our agricultural exporters, as all product into KSA has to be imported, so do join us to hear how!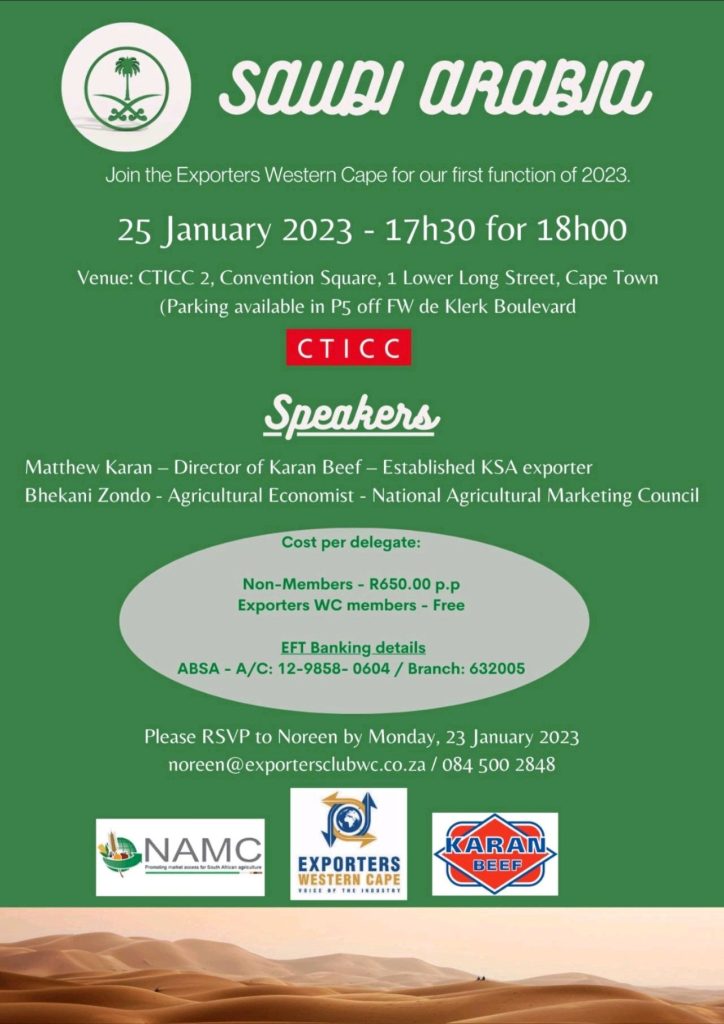 RSVP now to: noreen@ecwc.org.za!
CTCT : (09 – 15/01)
Terminal severely affected by wind (50.1 hours) and fog (50.2 hours), even facing these challenges, managed 11198 TEU, out of a target of 15154.
Currently 6 vessels @ anchorage, with one berthing early afternoon
Night moves @ 11%, disappointing as should improve due to deciduous & grapes coming in through the 24/7 period.
MPT: (09 – 15/09)
Target 1363 TEU Actual 1783 – 1098 Truck gate moves with 25% stack occupancy
Truck Staging Area:
Interim TSA withdrawn in view of lack of communication/misunderstanding of how the systems works
Hydraulic Units:
In place alongside 601 & 602, however as ranging more a winter phenomenon, they can only prove their worth in the coming months
Have a great weekend!