Good morning,
Welcome to another Logistics News Update.
Let's start with the best story of the year. Well done to the Springboks. What a joy to see all South Africans celebrate!
This week we have included a few Trade Terms which you may find insightful. The short snippet will explain the difference between the most used Incoterms®.
We are the champions!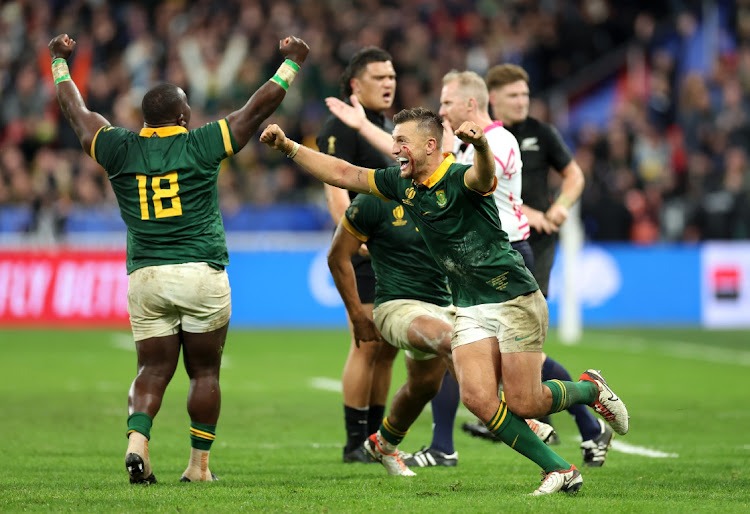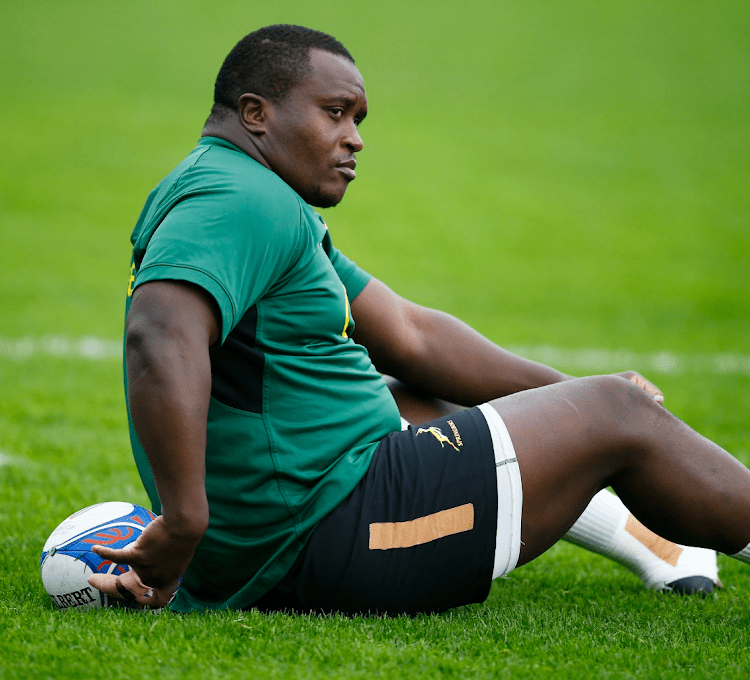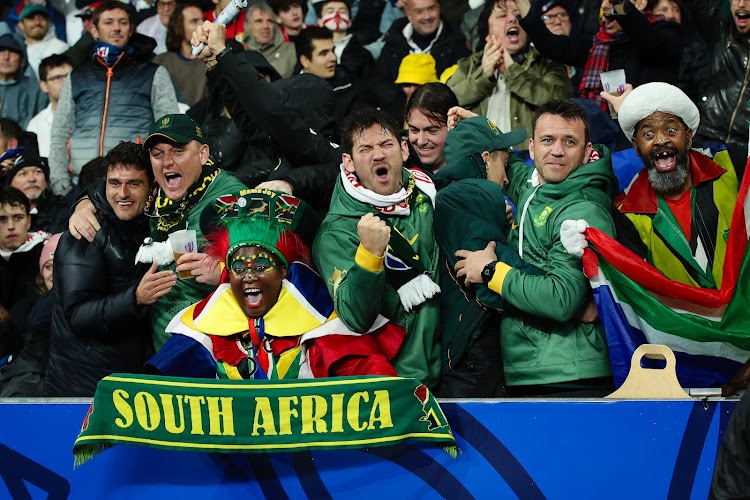 On top of the world, giant-slayers, champions, heroes. Magicians, masters of getting out of jail.  Let the superlatives rain down on our glorious rugby squad, for they deserve them all. And more. In 80 tense minutes at Paris's Stade de France, the Springboks played like a team who knew how much it meant to those at home across the country, black and white, rich and poor. For a moment there, as President Cyril Ramaphosa celebrated with Siya Kiolisi and his brave warriors, a nation allowed itself to forget, and to hope again. With a record-breaking four World Cups under our belt, and as the nation looked back on a month in which the South African flag flew high for all to see, forgotten was the load-shedding, corruption, crime, poor governance and greed that have sullied the hopes and dreams that animated us in 1994.
Source: Sunday Times
---
Educating yourself in TRADE Terms
What is a blank Sailing?
A blank sailing (a void sailing) is a sailing that has been cancelled by the carrier (shipping line). A blank sailing could mean a vessel is skipping one port, or that the entire string is cancelled. A string is a set of ports served weekly by a carrier.
Common Sea & inland Waterway Incoterms 2020
FAS – Free alongside ship – Under FAS, the buyer is responsible for the cost of clearing export and unloading.
FOB – Free on Board – Normally to the port of loading – Your manufacturer/supplier takes it to the port, but you book and pay for the shipping and everything from there until you receive it.
CFR – Cost and freight – Until the goods arrive at the port of discharge, your manufacturer/supplier is responsible until then. You take control from there and pay for clearing and transport to your warehouse.
CIF – Cost, Insurance and Freight – – Until the goods arrive at the port of discharge, your manufacturer/supplier is responsible until then. You take control from there and pay for clearing and transport to your warehouse. (better to use this one from an insurance point of view).
** Important: The difference between CFR and CIF is the presence of the minimum amount of marine insurance cover on the product that is being sold. Under CIF, the seller holds all the same responsibilities as in CFR but is also required to purchase insurance for the goods during transport.
---
N E W S
Agoa forum will ease strains in relations with US, says Ramaphosa
President calls high-level conference this week 'very important' and a highlight of the year for South Africa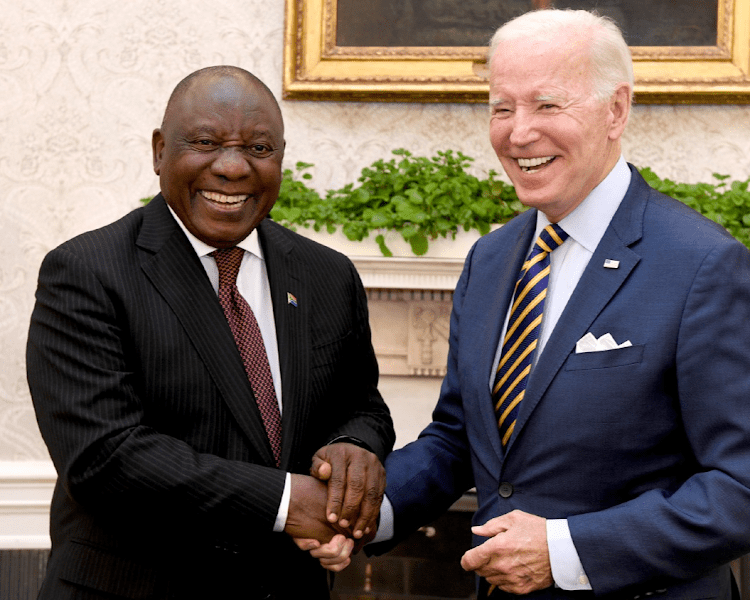 President Cyril Ramaphosa is hailing the three-day African Growth & Opportunity Act (Agoa) forum that starts in Johannesburg on Thursday as a milestone in improving South Africa's recently strained relationship with the US. "[It] is going to enhance our relationship with the biggest economy in the world, where we export a number of our goods and services. So it's going to be one of the highlights of the year for us," Ramaphosa said on the sidelines of an oversight visit to Emfuleni local municipality on Friday. The Agoa forum is being held as scheduled in South Africa despite agitation by conservative lawmakers in the US earlier this year for it to be moved, mainly because of Pretoria's stance on the war in Ukraine. South Africa, declaring itself non-aligned, has abstained from UN resolutions condemning Russia. The US lawmakers cited allegations that South Africa shipped arms to Russia — which have never been substantiated — and its participation in naval exercises with Russia and China. In July Ramaphosa sent a high-level delegation, including finance minister Enoch Godongwana, international relations minister Naledi Pandor and minister of trade Ebrahim Patel, to the US to mend fences and discuss Agoa. Despite the diplomatic challenges, Ramaphosa — who met US President Joe Biden in Washington in September last year and had brief talks with him at the G20 summit in India in September this year — said he was confident that South Africa would put on a world-class conference this week. Read the full story here
Source: Sunday Times
---
South African businesses are still being hurt by the volatile freight market.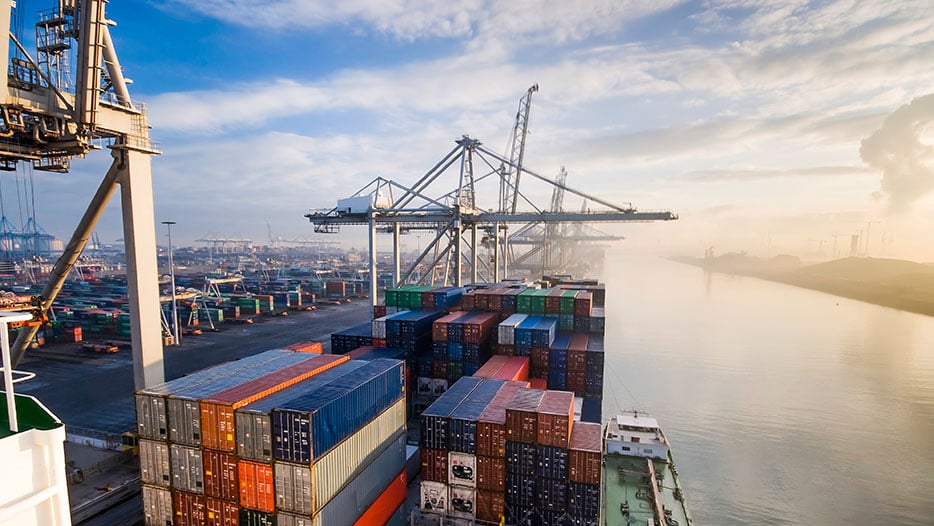 Will things get better soon, or should we expect more problems?
Businesses are once again taking the brunt of disruptions that they can't control. The situation is made worse by the unpredictable landscape, which has been caused by a few unfavourable factors, including treacherous weather conditions, rising fuel prices, shipping disruptions, and an exodus of key personnel from Transnet. The current delays to sea freight shipments are expensive, and the extent of the delays and disruptions is wide-ranging. It's hard to be confident that Transnet's shortcomings will be overcome anytime soon, but we must keep hoping for constructive intervention and an improvement in fortunes. The impact of the following key factors needs to be continually assessed and considered:
Unreliable transit times
Cancelled sailings
Capacity constraints
Port congestion and berthing delays
Rising freight rates
---
Transnet warns of strike action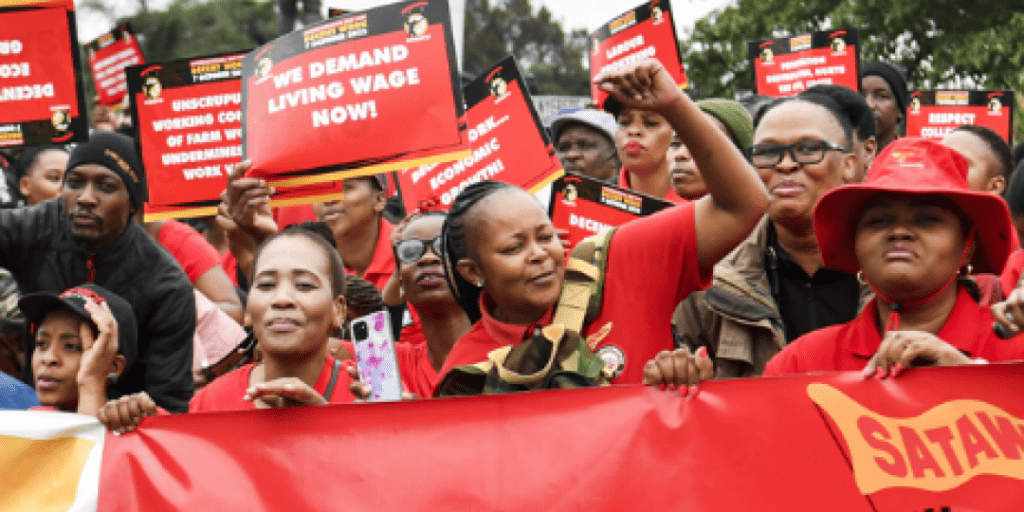 Transnet has warned of plans by the SA Transport Workers' Union to down tools on November 3. In a statement released to stakeholders, the transport utility has said that it regards the planned action as unprotected because the union has not complied with compulsory prerequisites for a lawful protest, which includes a structured process conducted by Nedlac. Satawu has been given a deadline of October 27 (today) to provide a written undertaking that it will not embark on the protest action and will not encourage others to do so.
The logistics company has warned that should the strike go ahead, the 'no-work-no-pay' principle will apply and disciplinary action against participating employees may be taken. "Contingency plans are being put in place in the event of the Satawu leadership continuing with its action and Transnet Port Terminals (TPT) remains committed to resolving any possible disruptions by instituting the appropriate plans," Timothy Keit, TPT's head of business development said.
Source: FTW
---
Port of Durban in a state of mismanaged chaos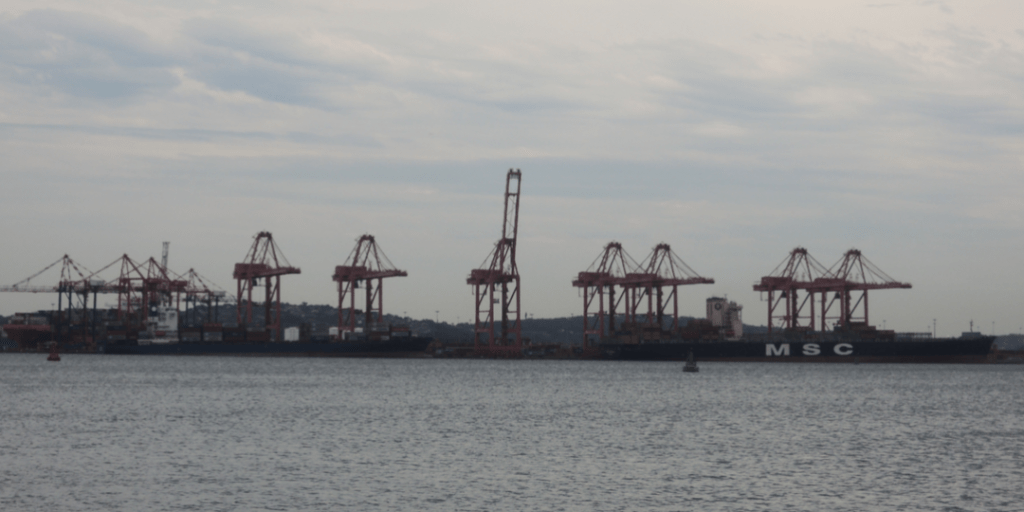 The Port of Durban is facing massive backlogs on the land and waterside with more than a dozen vessels queuing outside the port at any given time, and trucks battling to get appointments as equipment failures and inclement weather hampers operations. However, Transnet's Durban Terminals managing executive Earle Peters has assured port users that the crisis is receiving management's attention at the highest level through President Cyril Ramaphosa.
Freight industry stakeholders, who asked to remain anonymous, said berthing delays have run into weeks, while trucks have been struggling to get appointments to load and offload cargo. They said the port's management had called an urgent meeting with major shipping lines on Thursday last week and another on Monday night to deal with the crisis that has been ongoing for the past six weeks. "Berthing delays are running into two weeks," one port user said. "Last Thursday there were 14 ships sitting outside. It has not got this bad before. The equipment is breaking down in the stacks and we don't have equipment to service the trucks so they can't get appointments." He said on Monday there were about 12 container vessels waiting outside for a berth at Durban Container Terminal's Pier 2, while another three were waiting to berth at Pier 1. "The port is in a terrible mess.
"There isn't enough equipment even though they are cannibalising parts from one machine to another. This is resulting in truck congestion, delays inside the terminal up to 10 hours, no booking slots are released as well as vessel berthing delays." The source said there's a real fear that the terminal will soon come to a grinding halt. Another port user said the backlog had been created due to Transnet not servicing its equipment, which was keeping trucks from entering the port, the "same as Eskom making life difficult for everyone." Peters told Freight News that the berthing delays were due to a combination of inclement weather and a shortage of equipment. "Wind, heavy rains, high swells and a shortage of straddle carriers at the Durban Container Terminal Pier 2 and rubber-tyred-gantry cranes at Pier 1 have resulted in vessels waiting at anchor over the last six weeks," Peters said.
"The terminals lost 106 hours in September and are currently on 104 hours for October. This is time lost because the terminals could not operate." Peters said the same inclement conditions also affected landside traffic. "Truck congestion meant bookings were not available until the trucks waiting in the terminal were serviced. The terminals have introduced haulers and reach stackers to service road trucks. Landside operations are now fluid," he said Peters said the port is working closely with the private sector and container shipping lines on relief initiatives "through the consultative structure" Ramaphosa's National Logistics Crisis Centre. "Maintenance resources have been increased as maintenance is now performed over a 24-hour period. Business rules have been developed to service urgent containers and weekly vessel calls.
"The company is also at an advanced stage of concluding long-term OEM (Original Equipment Manufacturer) contracts to modernise its fleet and supply spares. "The main focus is to improve container handling equipment reliability." He said the OEM contracts would also "significantly improve lead times for the supply of spares across its fleet". Peters said the port was working on additional initiatives to reduce congestion including the tier-for-tier release to minimise non-productive moves of containers when import containers are collected at the container terminal.
"Containers at DCT Pier 2 are stacked three high and at Pier 1 up to six high. "Tier-for-tier release will ensure the top container will be dispatched first compared to the container stacked on the ground and therefore the current fleet of equipment will be used in a more efficient manner," he said.
Source: FTW
---
Transnet needs R100bn bailout for recovery plan
Ambitious programme aims to turn R5.7bn net loss into R5.1bn profit in two years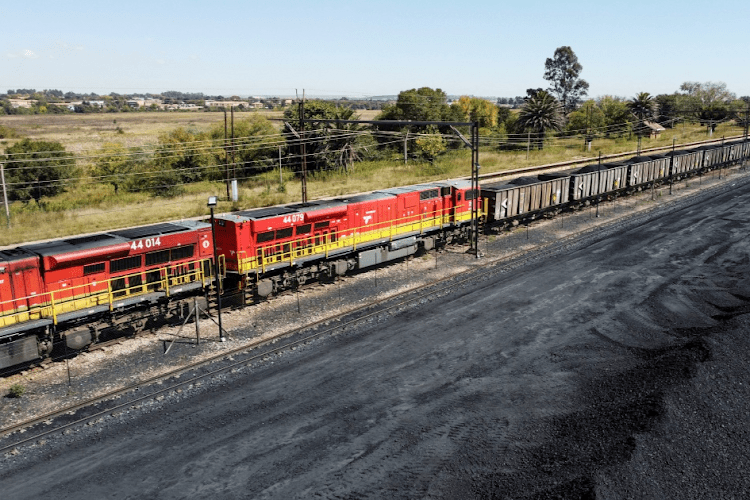 Transnet has released details of an ambitious recovery plan that forecasts an increase in revenue from R78bn to R91bn, a surge in earnings to R37bn, and the reversal of a R5.7bn net loss into a R5.1bn profit in the next two years. It also plans to ramp up capital investments on the rail network, rolling stock and port equipment from R17.9bn to R28.2bn by 2025. But for this to happen it needs a R100bn bailout from the government. Its financial support package request to the Treasury includes a R47bn equity injection or a subordinated loan that could be converted into equity if the company demonstrates progress in turning its operations around. An immediate cash injection of R3.4bn is required before March next year. It has also requested that R61bn of its R130bn debt be absorbed by the Treasury, similar to the debt relief offered to Eskom. In February, Finance Minister Enoch Godongwana allocated Transnet R5.8bn to purchase spare parts for locomotives and fix infrastructure damaged by floods. However, there were no further allocations to the company in the medium-term expenditure framework — the government's three-year spending plan — and it's not clear if plans will be adjusted to account for the bailout request when Godongwana unveils the medium-term budget policy statement on Wednesday. Transnet has breached debt covenants and its debt service costs of R13bn per annum mean it does not have the capacity to borrow from the markets going forward.
Source: FTW
---
Weekly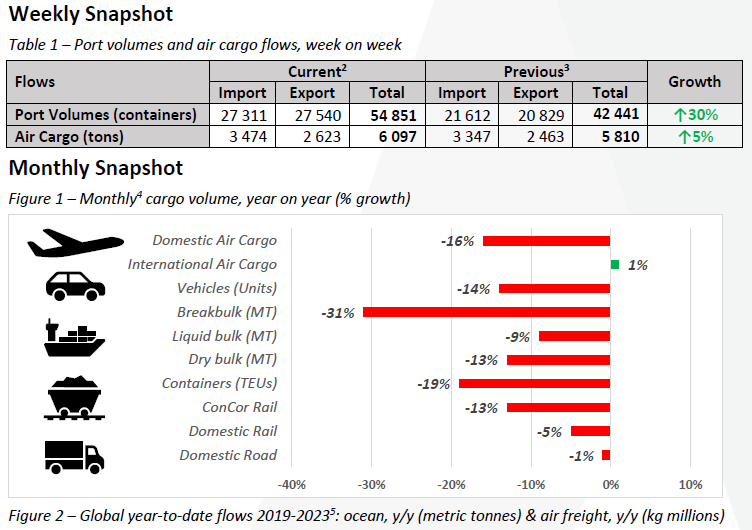 Key Notes
An average of ~7 836 containers was handled per day, with ~8 378 containers projected for next week.
Rail cargo handled out of Durban amounted to 2 445 containers for the week, ↑13% (w/w).
"Land Transport Survey" for August shows the payload decreased by ↓3,3% (y/y)—road/rail at 84/16.
Cross-border queue times were ↓0,2 hours (w/w), with transit times ↓0,2 hours (w/w); SA borders decreased by ~1,7 hours, averaging ~10,3 hours (↓14%); Other SADC borders averaged ~6,8 hours (↓15%).
Global freight rates decreased by ↓2% (or $22) to $1 342 per 40-ft container this week. YTD: $1 711.
Global air cargo tonnage, capacity, and rates are all up by ↑1% (w/w), as rates are trading at $2,38/kg).
Commercial ports handled an average of 7 836 containers per day, significantly up compared to the 6 063 last week, but that was itself an exceptionally poor week. Several operational constraints were reported this week, primarily revolving around adverse weather conditions, leading to congestion and backlogs. Although the adverse weather in Cape Town abated somewhat this week, productivity at the port was abysmal, while more than 33 000 TEUs are stuck at anchorage. Inclement weather and equipment challenges dominated operations in Durban as it directly impacted waterside activities and booking slot availability on the landside, as the vessels awaiting berth continued to pile up with some 36 000 TEUs stuck at anchorage. Only ten units on NCTs MoorMaster are operational, suggesting that the machine's functionality is below 50%. Additionally, unabated cable theft persisted through the earlier parts of the week, with the latest incident occurring on Tuesday, causing extensive delays. Earlier this week, reports emerged that the South African Transport & Allied Workers' Union (SATAWU) were planning to embark on protest action against 'privatisation' on 26 October 2023. The protest action was then postponed to Friday, 03 November. Global port throughput is projected to increase by ↑1,4% in September, according to Drewry's nowcasting model, following a ↓0,1% (y/y) decline in August 2023. The current index stands at 111,3 points, similar to levels in June 2022. Greater China's container port throughput index increased by ↑1,1% month-on-month, North America's index rose by ↑3,5%, and Russian ports, like St. Petersburg, experienced notable growth. However, overcapacity remains an issue, with expectations that it may not be absorbed until 2028, even longer if assumptions like lower demand growth or modest supply growth don't hold, making slow steaming and scrapping essential to balance supply and demand in the container shipping market. Other developments affecting the international market include (1) Isarael/Hamas conflict update, (2) Malaysia detains tankers over illegal STS operation, (3) Rescue Mission Called Off After British Cargo Ship Sinks, (4) DP World Wins 30-year concession to run Dar Es Salaam Port, and (5) Kuehne + Nagel gained market share despite profits halving in Q3.
In the air freight market, international air cargo to and from South Africa continues to carry good volumes, as total cargo is up by ↑5% in the last seven days, with both imports (↑4%) and exports (↑6%) up. Domestically, cargo handled at our commercial airports was up ↑28% this week but remains down compared to last year (↓10%) and significantly down compared to the pre-pandemic level (~63%). Internationally, global tonnages and rates have stabilised after the recovery from Golden Week, showing a ↑1% increase in week 42. However, there are no apparent signs of a significant fourth-quarter peak season, despite some anecdotal reports of a slight seasonal tightening of the market. In other cargo news, DHL Global Forwarding has established a dedicated charter operation between its European hub at Liege and Tel Aviv to address the reduced belly capacity caused by the outbreak of conflict in Israel. In regional cross-border road freight trade, average queue times marginally decreased by some 15 minutes, while transit times decreased by about the same amount last week. The median border crossing times at South African borders decreased by almost two hours, averaging ~10,3 hours (↓14%, w/w) for the week. In contrast, the greater SADC region (excluding South African controlled) decreased by approximately an hour and a quarter and averaged ~6,8 hours (↓15%, w/w). On average, two SADC border posts took more than a day to cross, notably Beitbridge and Kasumbalesa (again being the worst affected, with crossing taking some two days from the DRC side and half of that from the Zambian side). Further notable developments included (1) minor disruptions at Lebombo and Beitbridge and (2) several long queues inhibiting smooth cross-border trade, notably at Lebombo.
In summary, the poor performance of our logistics network – particularly Transnet – continues to inhibit growth in the trade, transport, and logistics industry. In the words of Minister Gordhan, when commenting on Transnet – "The level of performance we are seeing is not good for the country, not good for the entity and not good for the individuals themselves"6. The massive queues of vessels waiting to be serviced at our ports continue to pile up (at a high of 75 vessels on Thursday afternoon), with some deciding to bypass. Several weeks of poor weather – often cited as the underlying cause of disruption – has not helped. However, the weather is only a small part of the explanation for the poor performance, as the challenges run deep in our network. These challenges can be collectively grouped under (1) Infrastructure, (2) Equipment issues and port productivity, (3) rail/road capacity – especially with the ongoing failure of the rail system and (4) skills deficiency in staff.
Minister Gordhan is confident that we will turn things around ("These are broken institutions, but we'll fix it. I am confident that things will improve from this point onwards."). To achieve this dream, Transnet has asked Treasury for a R100 billion loan7. The ability of Treasury to provide that remains in question, but it is already past the time when we analyse the problem and talk about it. We need to stop talking about it and start fixing it, as we seem to be excellent at analysing the problem, as indicated by Transnet's recovery plan8, but not so good at doing something about it. As the acting Transnet CEO perfectly summarises it, "…at the heart of it all is to drive efficiencies to deal with immediate operations issues". Ultimately, we need to get operations back up to speed, and we need it fast.
---
PORTS
Summary of port operations
The following sections provide a more detailed picture of the operational performance of our commercial ports over the last seven days.
i. Weather and other delays
Although the adverse weather in Cape Town abated somewhat this week, productivity at the port was abysmal.
Inclement weather conditions and equipment challenges dominated operations in Durban.
Our Eastern Cape Ports could not escape the clutches of strong winds this week.
Minimal operational delays were reported in Richards Bay this week.
ii. Cape Town
On Wednesday, CTCT recorded one vessel at berth and four at anchor. High tides ensured some berthing delays during this period. On the weather front, the terminal had a much better week, as minimal weather-related delays were reported. Conversely, terminal productivity was abysmal this week as terminal users reported that only five container moves were executed per hour on several occasions this week, at a time when the MPT was achieving around three times that level of productivity, and MPT does not have the specialised container handling equipment that CTCT has. Stack occupancy for GP containers was recorded at 33%, reefers at 31%, and empties at 38%. In the latest 24-hour period to Thursday, the terminal handled 1 872 TEUs across the quay while 624 trucks were serviced on the landside. Additionally, equipment woes at the terminal continued this week as Crane LC1 went out of commission due to a crack on its trolley. The trolley on Crane LC4 is also faulty, preventing it from returning to service. Additionally, the new shore tensioner is set to arrive by the end of November. It was initially destined to arrive earlier; however, shipping challenges have postponed its arrival.
The FPT private terminal reported zero vessels at anchorage while servicing two at berth on Thursday. During the prior 24 hours, the terminal handled 3 053 tons of breakbulk cargo and 215 dry bulk tons on the waterside while servicing 416 trucks on the landside. At the same time, reefer stack occupancy was recorded at 22%. This figure is slightly improved from the figures experienced last week as the last reefer volumes of the citrus season are moving through the terminal.
iii. Durban
Pier 1 on Tuesday recorded two vessels at berth, operated by five gangs, and three vessels at anchor. Stack occupancy is 56% for GP containers and remained undisclosed for reefers as the reefer season is ending. During the same period, 1 700 imports were on hand, with 45 units having road stops and 29 unassigned. The terminal recorded 1 221 gate moves on the landside, with 304 cancelled slots and 33 wasted. The truck turnaround time was recorded at ~86 minutes, with an average staging time of ~86 minutes. Blocks C1 and C2 at the terminal were released around 14:00 on Wednesday after some severe weather conditions earlier in the week. The adverse weather also gave way to the suspension of booking slots on several occasions throughout the week.
Pier 2 had four vessels at berth and 13 at anchorage on Wednesday. In the prior 24 hours, stack occupancy was 62% for GP containers and low at 19% for reefers, with 30% of reefer ground slots utilised, reflecting the fall-off in fruit production. The terminal operated with ten gangs while moving 2 592 TEUs across the quay. During the same period, there were 1 814 gate moves on the landside with a truck turnaround time of ~99 minutes and a staging time of ~108 minutes. Of the landside gate moves, 1 264 (70%) were for imports and 550 (30%) for exports. Additionally, 1 439 rail import containers were on hand, with 197 moved by rail. The terminal was also quite extensively challenged by inclement weather this week, which directly impacted slot allocation on the landside. Concerning productivity, both South and East Quays operated with two gangs for the majority of the week, suggesting that some of the cranes at these quays were out of commission.
Durban's MPT terminal recorded two vessels at berth on Thursday and three at outer anchorage while handling 481 TEUs and 1 422 breakbulk tons on the waterside. Stack occupancy for breakbulk was recorded at 38% during that time and at 49% for containers. The terminal handled 165 container road slots and 51 breakbulk RMTs containing 1 348 tons on the landside. During the same period, two cranes, seven reach stackers, one empty handler, seven forklifts and 17 ERFs were in operation. According to the latest reports, the return dates for the third and fourth cranes at the terminal have been delayed yet again. The third crane is anticipated to return in the first week of November, while the fourth crane is only anticipated to return by the end of November.
iv. Richards Bay
On Tuesday, Richards Bay recorded 20 vessels at anchor: 15 destined for DBT, two destined for MPT, and two destined for RBCT. Additionally, 16 vessels were recorded on the berth, translating to five at DBT, seven at MPT, three at RBCT, and one at the liquid bulk terminal. Two tugs and one helicopter were in operation for marine resources in the 24 hours leading to Wednesday while the pilot boat remained out of commission.
v. Eastern Cape ports
NCT on Wednesday recorded two vessels on the berth and zero vessels at the outer anchorage, with seven drifting. Marine resources of two tugs, a pilot boat, two pilots, and one berthing gang were in operation in the 24 hours leading up to Thursday. In the same period, stack occupancy was 47% for GP containers, 70% for reefers, and 35% for reefer ground slots, as a total of 2 416 TEUs were processed. Additionally, 486 trucks were serviced on the landside at a truck turnaround time of ~33 minutes. The estimated time of return for STS Crane 3 at the terminal was delayed to 30 October due to the adverse weather experienced. Only ten units on the MoorMaster are operational, suggesting that the machine's functionality is below 50%. The technical team hopes to get more units operational by 15 November 2023.
GCT on Thursday recorded no vessels at outer anchorage but recorded one at berth. Available waterside resources were two tugs, a pilot boat, two pilots, and one berthing gang in the prior 24 hours. During the same period, stack occupancy was recorded at 69% for GP containers, 29% for reefers, and 63% for reefer ground slots. On the waterside, 542 TEUs were handled across the quay at an undisclosed GCH and SWH. Additionally, 133 trucks were serviced on the landside at a truck turnaround time of ~21 minutes. The estimated time of return of the third crane was also pushed back to 30 October.
iii. Global container freight rates
This week, the "World Container Index" decreased again – by ↓2% (or $22) to $1 342 per 40-ft container26. The precipitous fall in the last two years has been unprecedented and continues to illustrate the weak demand for containerised goods globally. It also raises the question of how many shipping lines will survive.
Figure 15 – World Container Index assessed by Drewry (last three years, $ per 40 ft. container)
This week's news was brought to you by:
FNB First Trade 360 – a digital logistics platform & Exporters Western Cape