Dear valued Stakeholders
Do find exciting news from the National Ports Authority: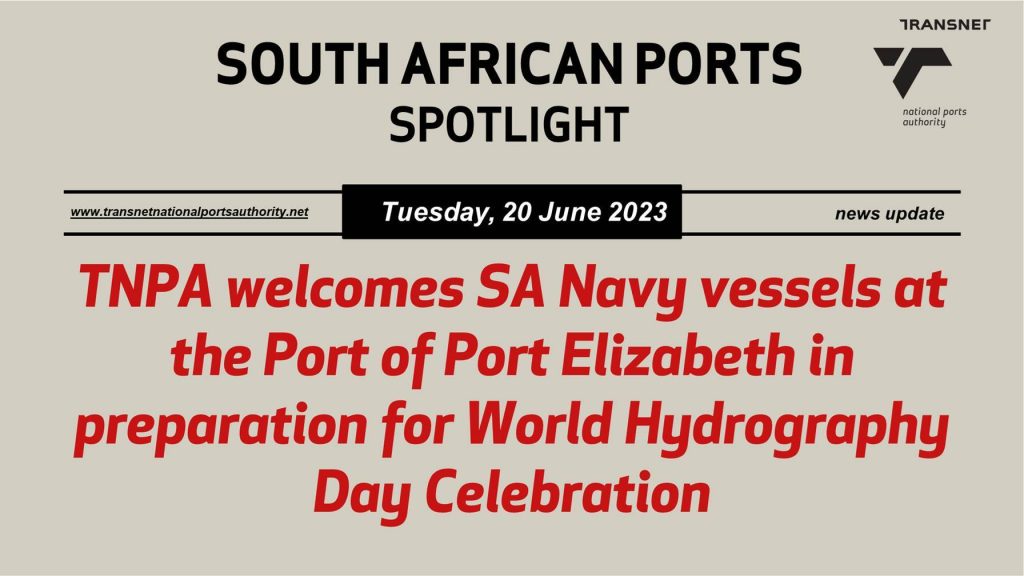 TNPA welcome SA Navy vessels at the Port of Port Elizabeth in preparation for World Hydrography Day Celebration 
Transnet National Ports Authority (TNPA) welcomes the arrival of two South African Navy vessels, SAS Mendi and SAS Sekhukhune, at the Port of Port Elizabeth in preparation for the Navy's World Hydrography Day celebration at the port and broader Nelson Mandela Bay Metro. 
Globally, World Hydrography Day is celebrated on 21 June to raise awareness about hydrography and its role in improving knowledge of the ocean. A series of celebratory activities will take place from 21 to 25 June, organized by the South African Navy in partnership with Nelson Mandela Bay Municipality and TNPA. As part of the activity rollout, SAS Mendi and SAS Sekhukhune will be open for public viewing on 23 to 25 June from 09h00 to 14h00. The public is encouraged to enter the port through the Campanile (Jetty Street) and Green Street entrances, which provide easy access to Berth 100 where the vessels are berthed.
"TNPA is delighted to have the Port of Port Elizabeth as the host port for the South African Navy vessels. Such initiatives contribute to the broader awareness of the maritime field to the general public and have potential of igniting interest for young people to consider careers in the field, especially in scarce skills." said Captain Brynn Adamson, TNPA Harbour Master at the Port of Port Elizabeth.
At TNPA, hydrography is used by the TNPA Dredging Services business unit to conduct surveys and the collected data is used to provide ships with accurate depth measurements to ensure that the weight of cargo is aligned with the maximum draft tolerance. Hydrography plays a critical role in the safe navigation of vessels within the ports.